The world is a theatre, the street is its stage
"I think it is much easier to achieve a somewhat tragic awareness by the burlesque than by the tragedy itself."
From video to motion decomposition
You were very interested in video at the beginning of your career: how did it affect the rest of your work?
As a student of visual arts I was interested in all types of media and media, from painting to drawing and photography. It was in master that I became interested in video, because it seemed to me that through installation and projection it was possible to superimpose two levels of reality. I was also very interested in cinema and I had the impression that to produce an interesting artistic creation you had to invent a new plastic device. I came back to this idea a little bit, realizing that it was nothing new, but I think that the video remains fantastic because it gives the illusion of life through a simple projection of light.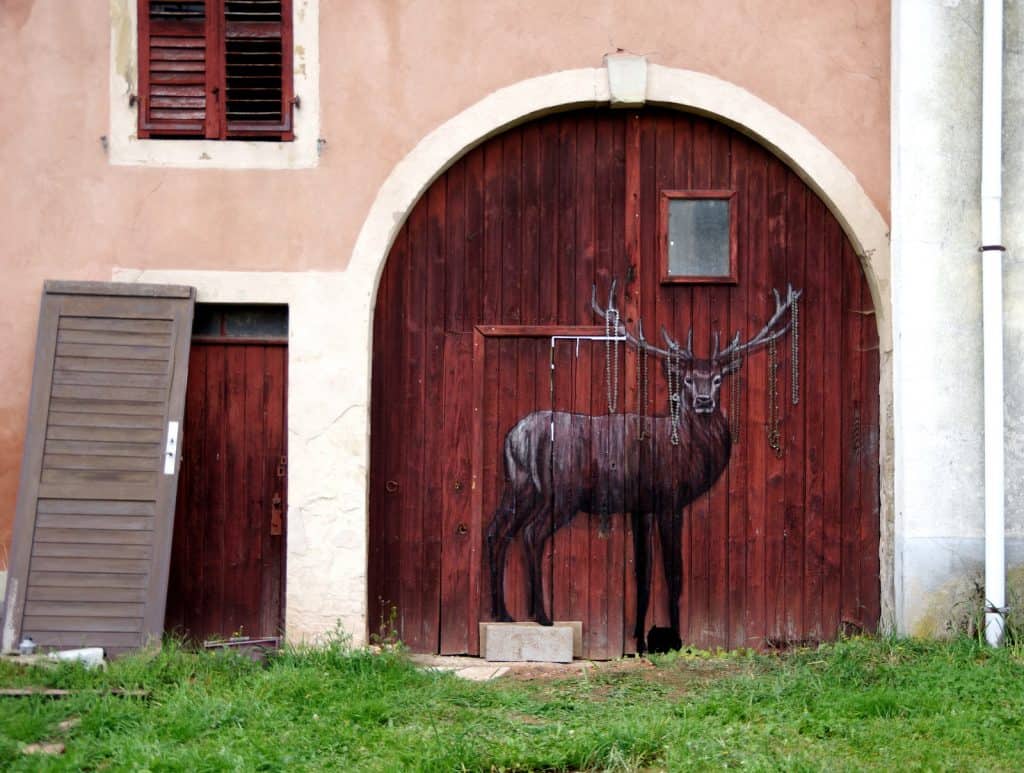 Your works highlight a decomposition of movement, in the same way as Eadweard Muybridge's chronophotographs.
These are things I know because they marked me during my studies. However, what interests me in this is more the aesthetic aspect and the impact created by a perception of movement given by a still image. In my practice, I try to create a narrative with such images, which are as close to comics as they are to video. During a conference cycle in which I participated at the Louvre, I realized that the narrative system used in Egyptian painting was very similar to the one I use. The variation of a character's actions through different postures, being as explicit as possible to understand at a glance what he is doing.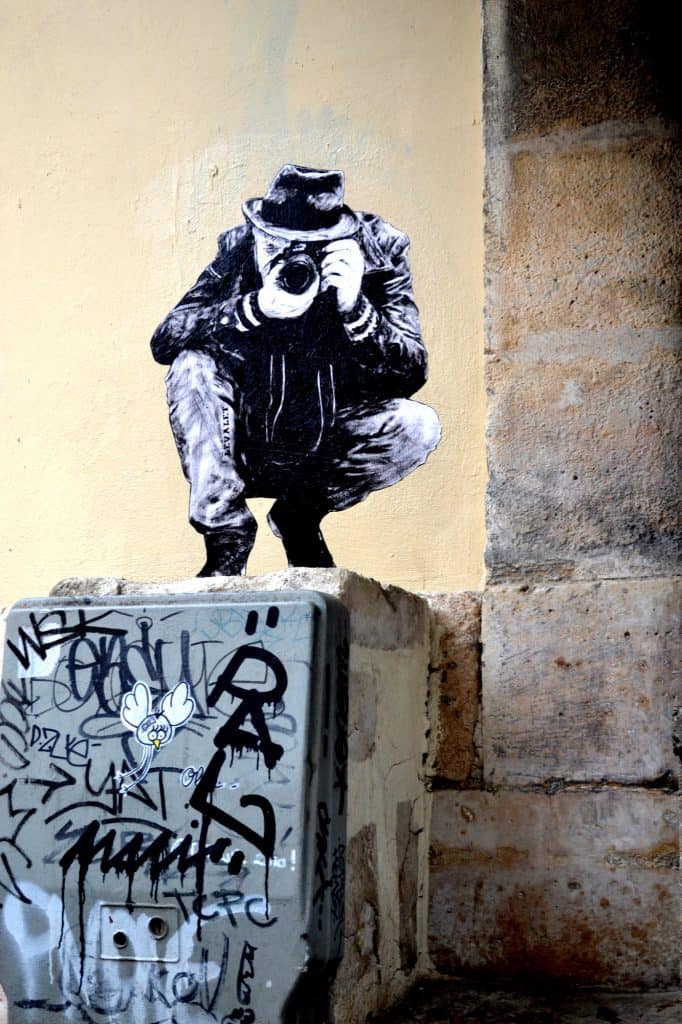 the street as a working space
How important is the street in your approach?
The street has always been for me a possible space for creation: as a student I was doing projects and as a kid I was involved in graffiti. When I arrived in Paris I no longer had any exhibition space and that's how I started to stick my drawings in the street.  The street offers an infinite repertoire of possible settings, and I mean this word in the broad sense: the city street does not seem more interesting to me than the rural street. I can find as much wealth in a village at the bottom of the Creuse as in the middle of Tokyo. Then, putting Art in the street creates a shift and a greater surprise effect than in a gallery or museum. This is of course true for any inappropriate place: if I were to place collages in a funeral home, it would be just as surprising.
For you, "the effect of surprise is necessary to be able to raise questions": how will the work surprise the viewer?
As I am interested in this feeling of surprise, I will first try to impress the spectator. This can either be done by an illusionist approach or by humour, to allow him to take a second look at the subtext of the work, and what it offers that is more profound or intellectual, even sometimes in spite of myself.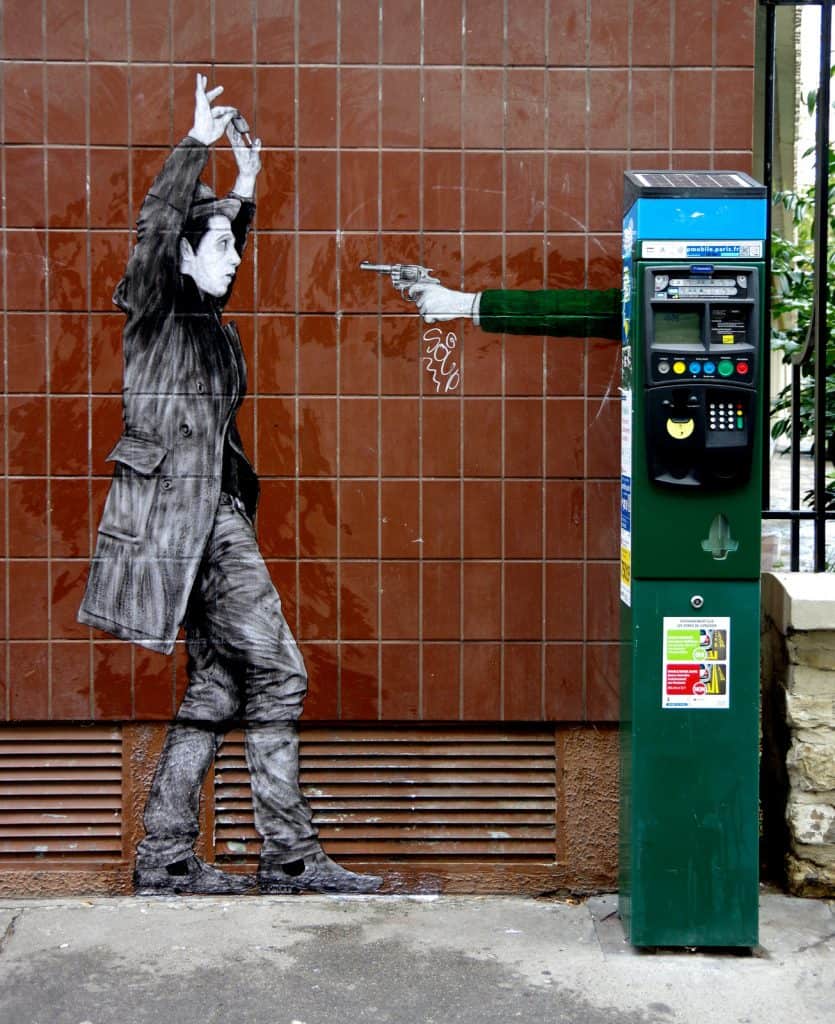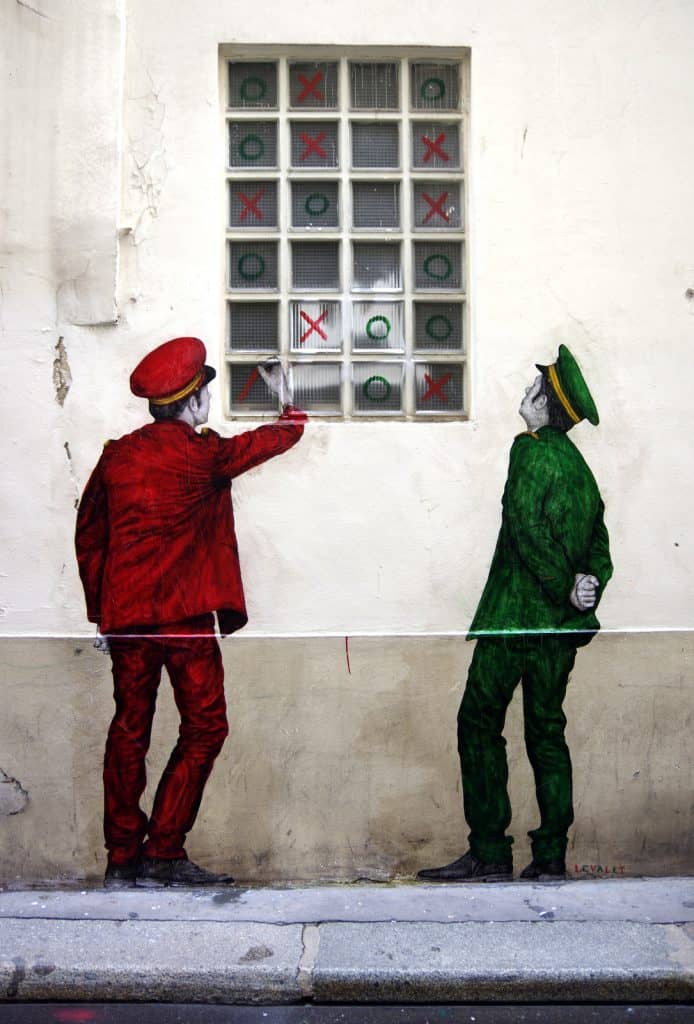 Your works are very contextual: their place in the street is decisive in their meaning. In your creative process, is it place that will determine creation?
Almost all the time I leave the place to create the work. Sometimes I have an idea that can be done in a neutral place, but most of my interventions are designed according to the place. I first take into account its formal aspect, which appears at first sight, whether its geometric form, its semantic dimension, or identifiable inscriptions. Then I think about his story, about what we don't necessarily see, so that I can also reveal things that are hidden at first sight.  
You're taking the risk of seeing the place disappear?
This has happened to me a few times, but in general I work in a fairly short time. When I have an idea three months after I spotted the place, I will go back to it before drawing it to make sure it is still the same. When it is no longer available when the work is finished, I try to adapt it as much as possible to transpose it elsewhere.
How do you use photography in your work?
If a work is seen by 30 people on the street, it will be seen by 3000 on social networks.  Most often, it will therefore be photography that will be the work of art. However, I don't think I'm doing artistic photography but rather documentary photography. I place myself in front of the image by trying to take the most neutral picture possible, whether in terms of framing or light, in a desire to bear witness to the work done.
Technique and choice of gluing
We sometimes refer to your work as hyper-realism, even if it seems rather illusionistic. What effect can you generate in the spectator thanks to these human-sized figures?
I have never tried to be hyper-realistic and I would be unable to do so. Hyper-realism refers above all to an American painting trend in which there is no longer any difference between photography and painting. On the contrary, I like my images to be realistic insofar as the proportions are right and coherent, but without being caricatured or stylized. I try to maintain a form of neutrality, even if the stylization also comes from the technique, and that by working with Chinese ink and brush, I offer the viewer the possibility to see the invoice of the image if he approaches it.
Why did you choose gluing as a working method?
In my opinion, gluing is less restrictive than stencilling. I don't need gold cutting, the big difference between my work and that of a stencil maker is that I never reproduce the same figure twice. The stencil would have no interest in my approach, whereas it is by definition a matrix to produce multiples. Personally, I hate to repeat myself and I prefer to start a new drawing corresponding to a new place. The practical aspect also counts: when I started I was a little less comfortable with intervening in the street, and collage makes it possible to intervene very quickly.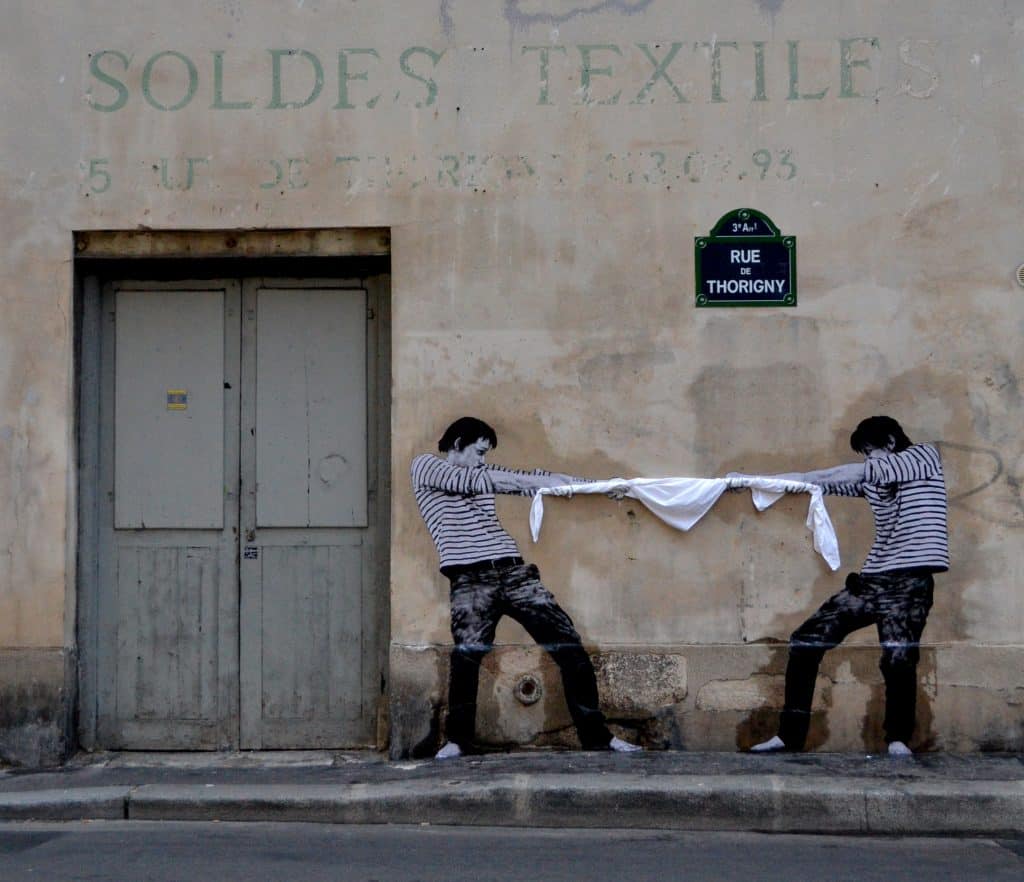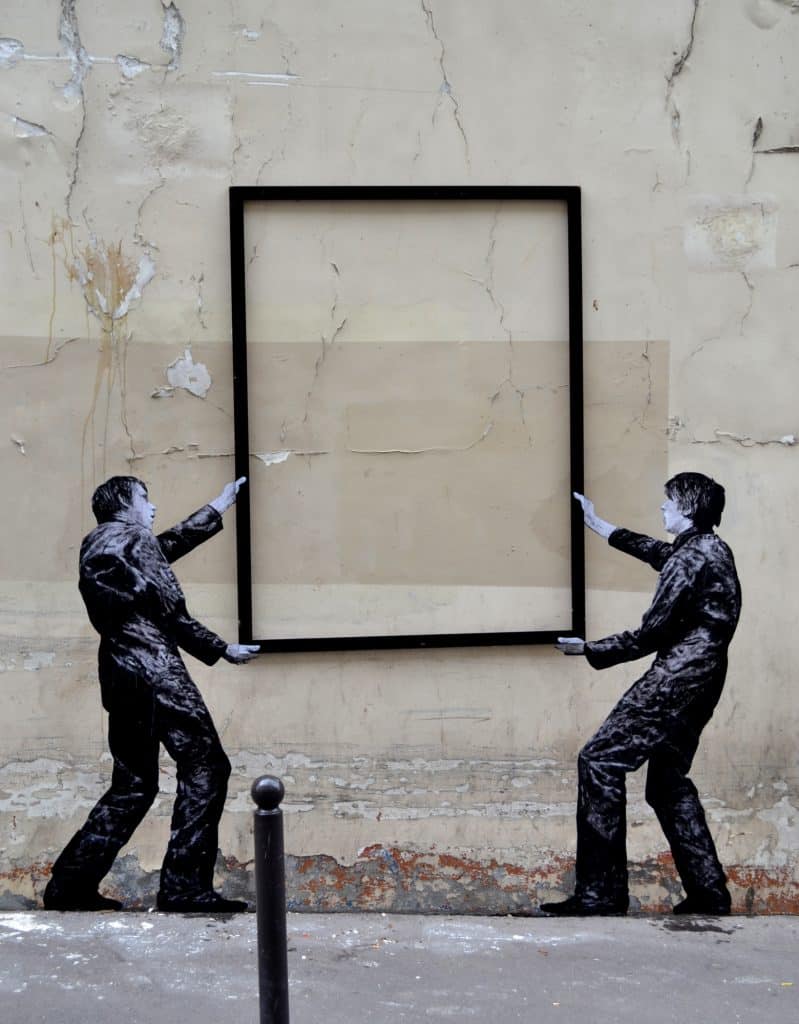 It is also an ultra ephemeral medium, unlike stencils.
I very quickly accepted this ephemeral nature, and in an ethical way I find it not bad that my images, which no one has asked for and which I impose, are easily removable. It's almost politeness to the public. The ephemeral dimension also plays on the perception of the work, because the effect induced by the collage is perceptible and brings plastic qualities that other techniques do not necessarily have. The look I'm going to get with my brush on paper is not at all the look I would have had directly on the wall. The nature of the design is completely different depending on the support used and the gluing allows this kind of effect.
In your interior work, you use many objects as supporting elements of the work.
When I work on another support, I often make an acrylic background before working on the encore de Chine. The choice of the support then interests me because it allows me to build small removable scenographic spaces. In the Undercover exhibition, the choice of books as supports made it possible to obtain very rich backgrounds, almost geometric abstractions. It also made it possible to make links between the representation and the title, author and color, which provides an overlap of reading levels. Moreover, by choosing a detail, it allows to change its meaning and to allow interesting abstract cutting.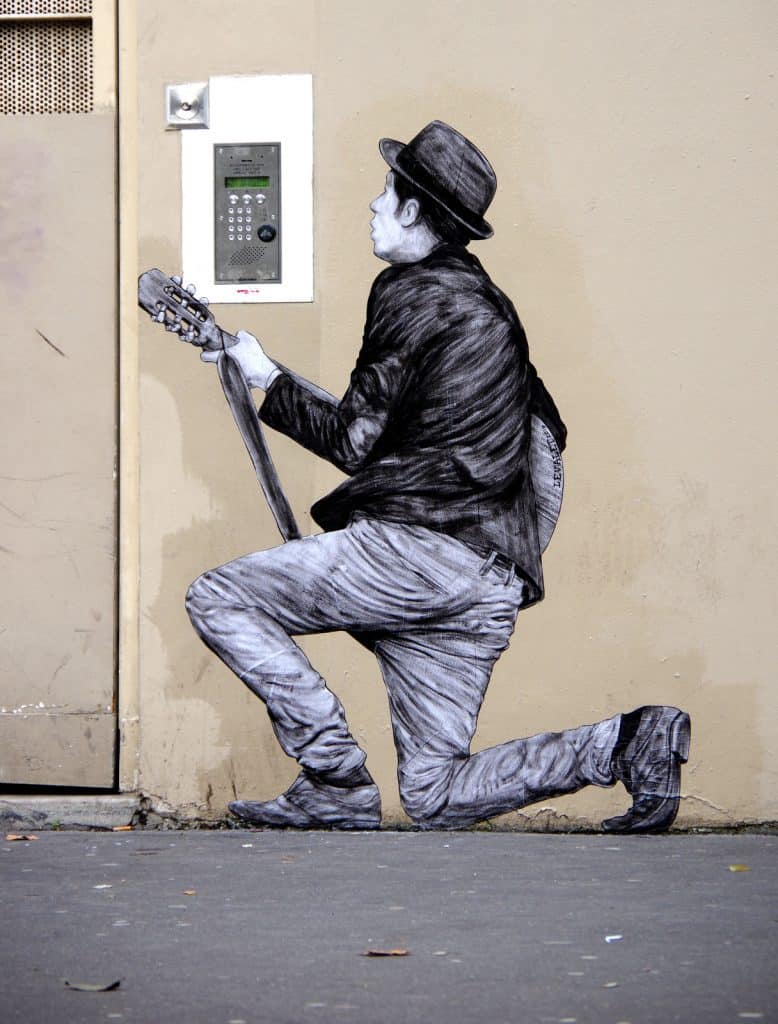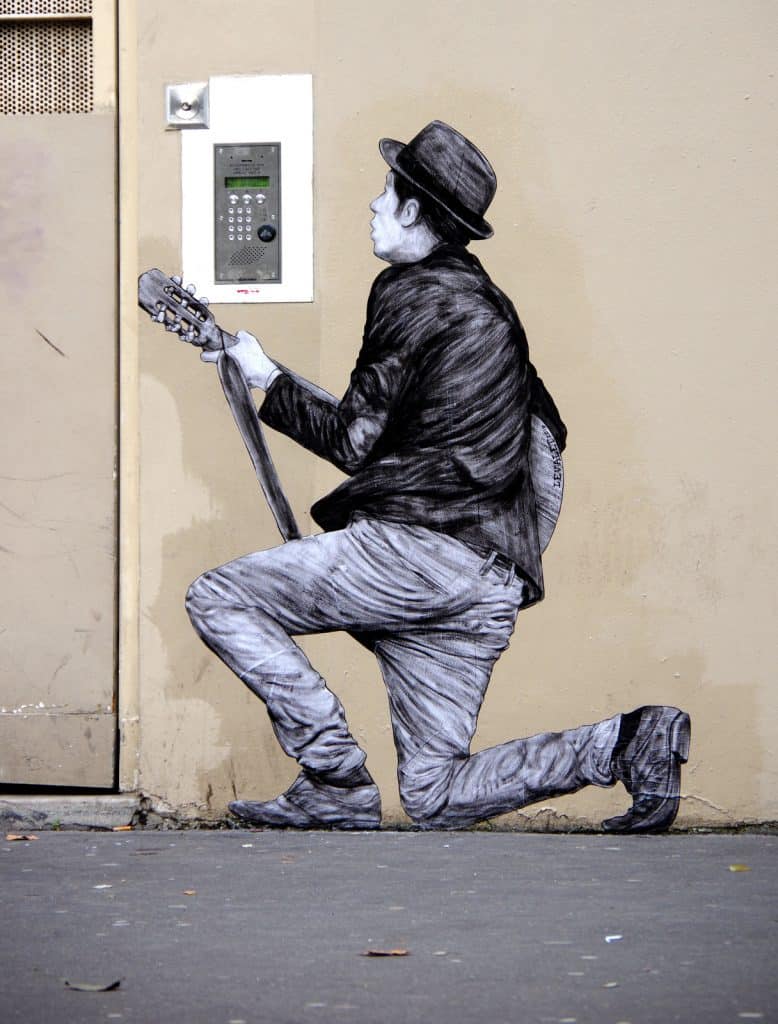 the representation of man
How do you build your images of moving bodies?
I have done a lot of improvisational theatre, which I use because I draw most of the time from pictures of myself. This practice has given me a certain ability to express emotions through simple body posture. My images are silent, and I try not to put any text in my installations. I think that if I had to use the text, it would mean that the image would not be good. In addition, I have the impression that adding text is like moving out of the realm of art into the realm of visual communication. In my opinion, what the image has more than the text is its ambiguity. I don't want to freeze my images in a single direction, to cultivate their polysemy, and that's why I try to convey the idea through the image as much as possible.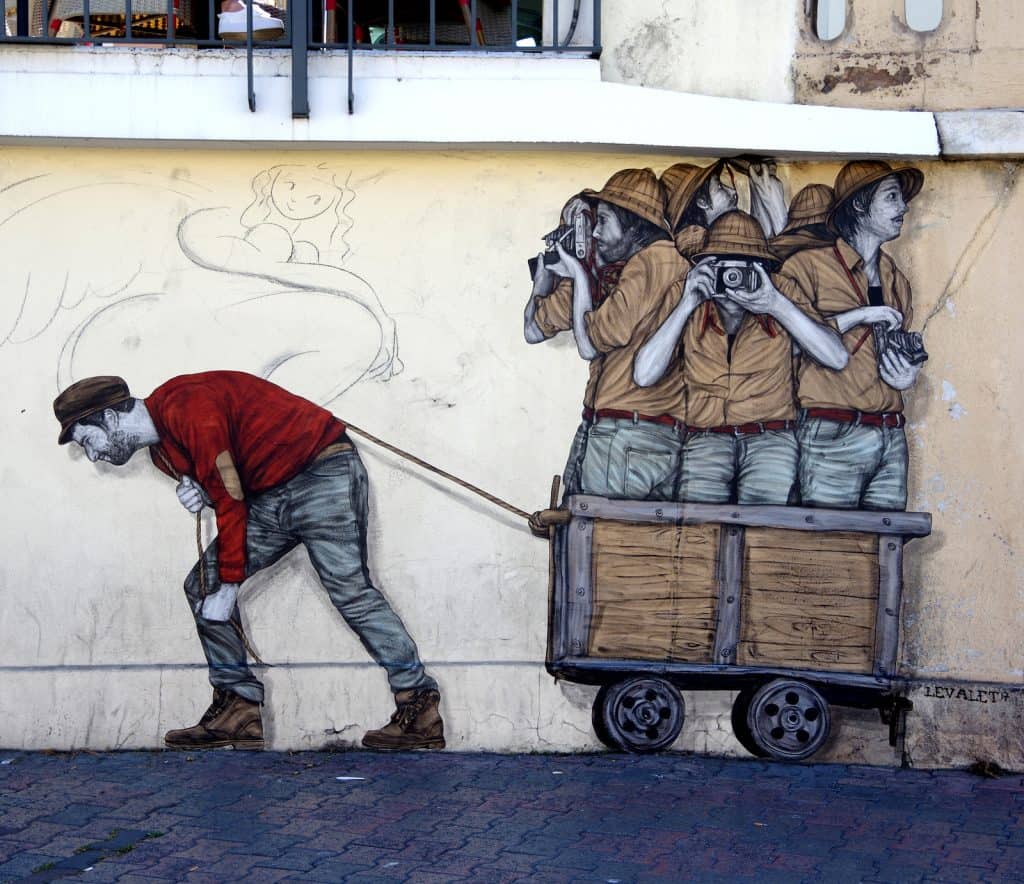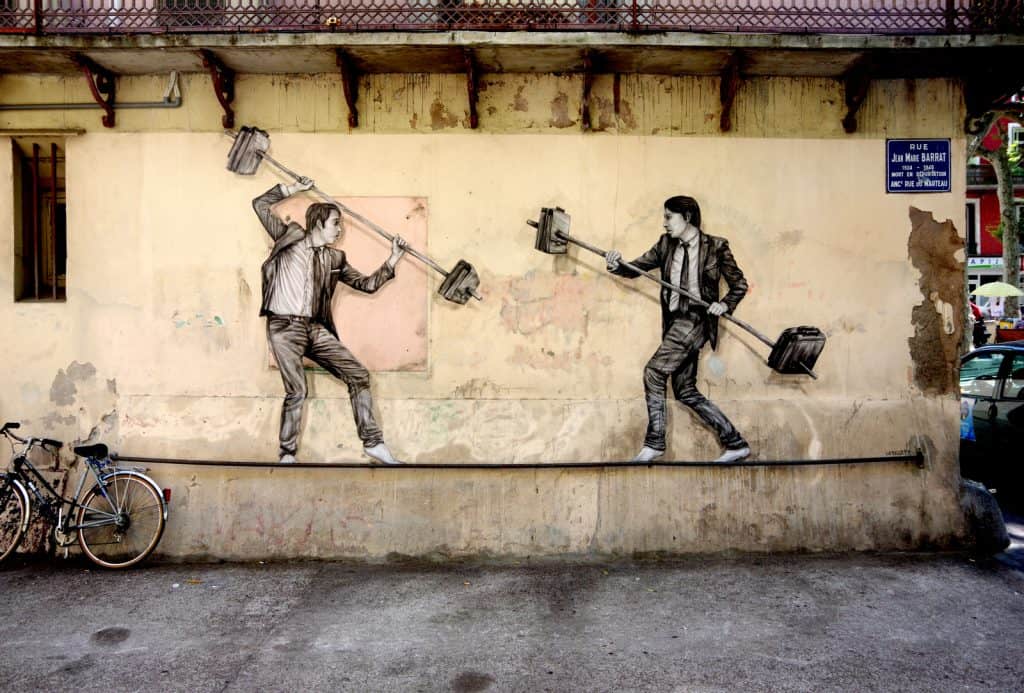 We perceive your characters as Keaton or the Chaplin of modern times, burlesque figures caught up in the infernal spiral of society.
I think it is much easier to achieve a somewhat tragic awareness by the burlesque than by the tragedy itself. By placing oneself in a dramatic register, one quickly falls into the pathetic. But if I use humour in everything I direct, it's also out of modesty, I need this filter to be able to speak. My characters sometimes end up dying, but it's a badly played death, like silent movies.
Is there a social dimension to your work?
I don't think it's about social considerations. I am necessarily talking about things that touch me or challenge me on a daily basis, but which can be as much metaphysical reasoning as social questions. I don't consider myself an activist artist, even if the moment you place something in the public space, it becomes political.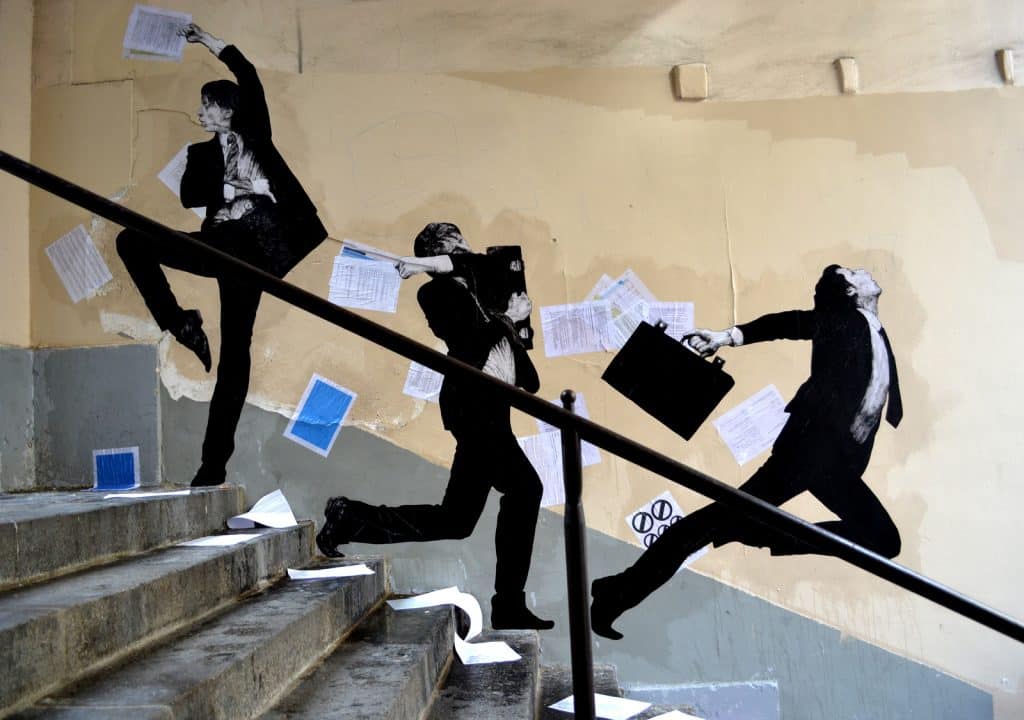 Your works are also distinguished by the regular presence of incongruous objects that denote in their visual approach.
These objects reinforce the illusionist dimension of my work, by mixing two levels of reality, real elements and represented elements. I am trying to ensure that the two coexist harmoniously so that we can ask ourselves the question of the status of one and the status of the other. In terms of semantic impact I don't think it's very different to include a real saw or draw it. On the other hand, the visual impact is all the stronger and this questions the status of the image.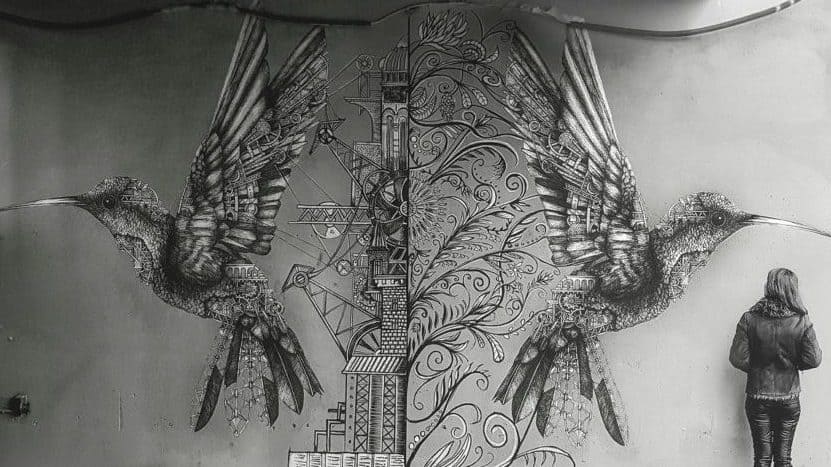 Meeting with a street-artist whose Steampunk influences make him constitute creature after creature a universe halfway between wildlife and robotics.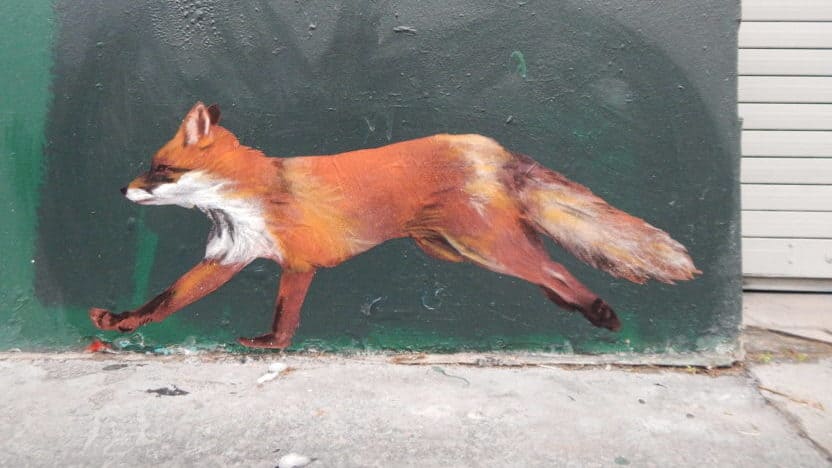 Meeting with an artist who plays on collage and trompe l'oeil to confront universes, advertising and painting, city-dweller and wildlife.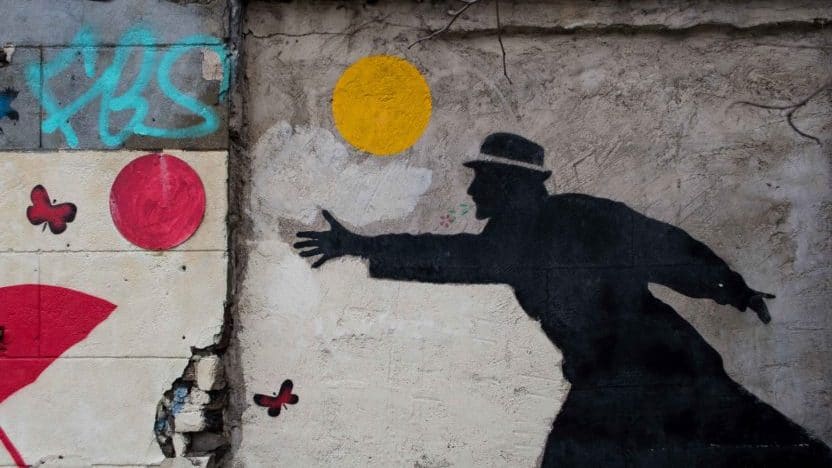 Meeting with one of the most discreet artists of French Street art, whose black character is a poetic representation of Urban Art.