A black silhouette, an extension of our childhood dreams
Text by Pennac
He is the mural painter of our shortcomings: we are heavy and he gives us to glide, we are serious and he gives us to play, we are pragmatic and he gives us to dream, we die of sterile fear and impotent rage, he soothes our walls, we are saturated with ourselves and he opens our windows, we are stubborn and he opens our doors, we are motionless and he proposes to cast off; we are free to move or not, he will not force us to do so. He gives no advice, gives no direction, makes no wishes, and takes so little for himself that he signs the tribulations of the black man as "no one"."
THE BIRTH OF THE MAN IN BLACK
You start painting for your son, along the way to school, with Winsor McCay's Little Nemo character.
I used to live in Ménilmontant and this space was enough for me, I didn't go beyond the boulevard de Belleville. There was plenty to do, and I couldn't see myself painting in the 11th or 19th arrondissement. Without any artistic training, I started directly in the street with Winsor McCay's Little Nemo, a great dreamlike genius who drew one page a week for the New York Herald. I had my imagination already in place: the tiger, the umbrella, the red balloon. The Little Nemo character was just a stencil, but I then made others that followed the path of my son's school, gradually moving away from Belleville.
When did the black man appear?
The black man arrived after a period of four to five years during which I hadn't taken to the streets, leaving Ménilmontant and then moving on to other neighbourhoods. I painted the first one when I was working in a business incubator, next to Rue Sorbier, near Place Martin-Nadaud. There was a window in the room that gave onto Rue des Partants. This is where he appeared. At that time we often painted at night, but I didn't want to hide, both because it was impossible to paint my black man in the dark, but also because it induces a strange game with the police: indeed it is a bit threatening to imagine someone at night, a spray can in hand, drawing a black silhouette. But it amused me to imagine the cops falling on this shadow during their rounds, emerging out of the night like in a detective story.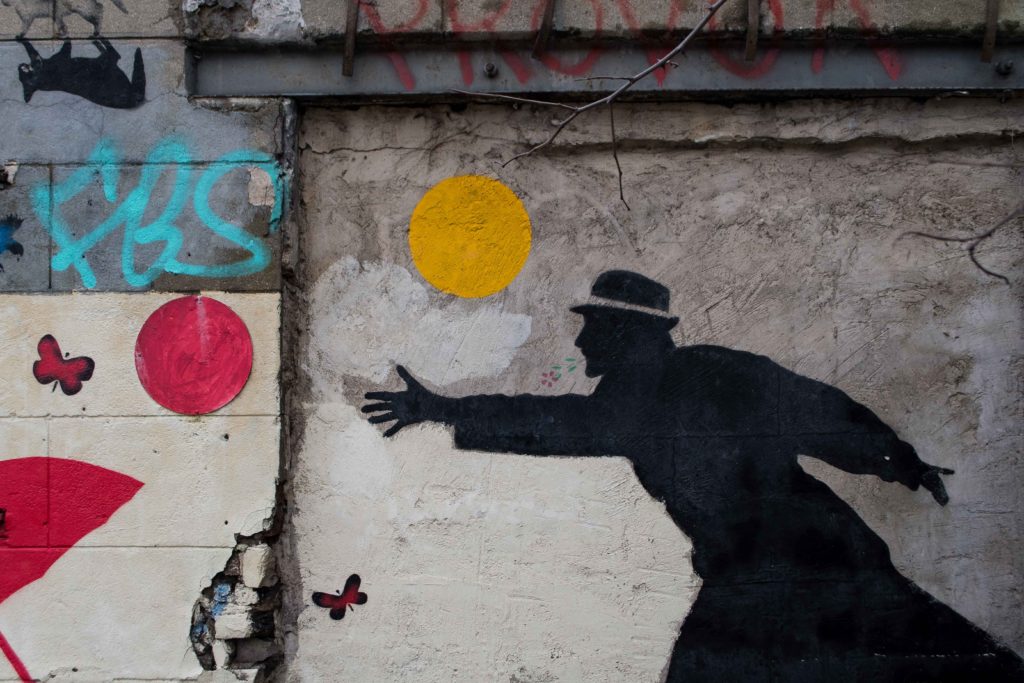 With his raincoat he reminds us of the characters in Jean-Pierre Melville's films.
If the black man is a totally urban character, he is however not a gangster, but a silhouette without a gun, enriched with harmless and zany details. A serial logic gradually set up, from the moment I thought it would be fun to find several of them. I always wanted to create a surprise, that a kid stops his mother to tell her to look at this character accompanied by a hippopotamus, a cat or birds. I was looking for that astonishment in the face of the visual aggressiveness of advertising. I don't forget the fights with the political billboarders, who for some took advantage of them to change my point of view.
Did it have a particular symbolism?
What I represent is not necessarily joyful: a black man, marked by his gabardine, his hat and his suitcase, in front of a hut being demolished, is not a joyful image. Once he found himself cut in half in Montreuil, leaving only his feet and his suitcase. For the Lizards de la Bièvre, I had painted in the street where Mitterrand lived and asked a violin maker if he would accept that I install it on the side of his shop. Without permission one must be determined because the police can always disembark. For me, it is a step destined to be seen, to touch the parents as well as the children.
You went to live in Colombia for four years (from 1996 to 2000, returning to France for several months in 1998). How has that changed your work?
Bogotá is not Paris. It's everyone's city and nobody's city at the same time. I have painted there in the former colonial quarter, near the Palace of the Presidency of the Republic, and all around the Palace of Justice. I hired two street workers, "throwaways" as they were called, homeless, whom I paid on a piecemeal basis. They joined me around the forty-sixth stencil. I went to places that were very visible, and others that were less visible: I was convinced that the Bogotanese appreciated this work very much. There was nothing on the walls then but old political messages or "Te Amo". It was a lot of luck.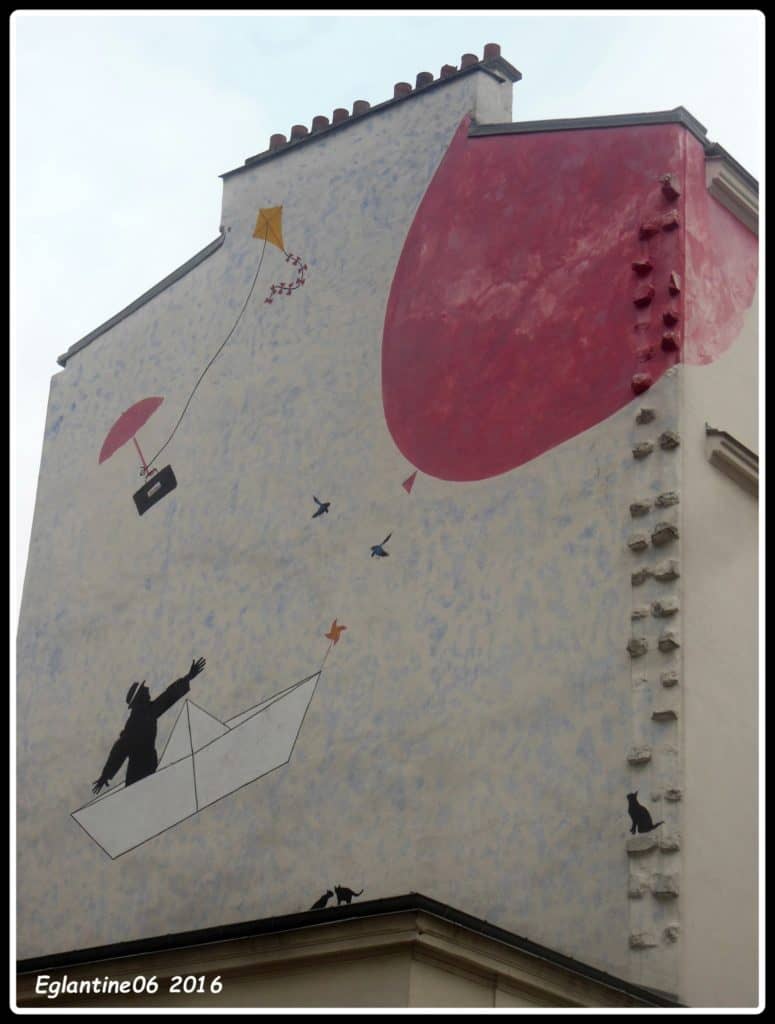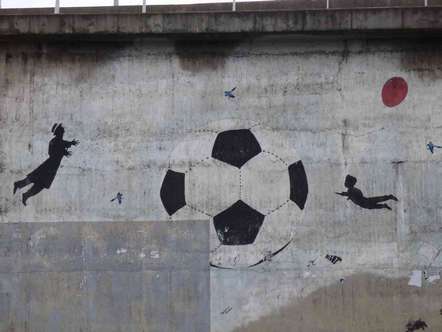 What were you looking for in those Colombian stencils?
Some Bogotanese told me not to go painting in certain places, but my goal was to get people moving, to create a movement in the city. I did a series of one hundred and sixty-two bombings in Bogotá, another series in Medellín during an international festival for which I had painted a huge red balloon. I also had the chance to meet the mayor, who gave me a pass to be quiet with the police. He had shown up after being kicked out of the national university, the only free one, when he was president. Antanas Mockus was of Lithuanian origin and, during a demonstration, exasperated, he had pulled down his trousers to show his ass to the students. A video had then toured the countries of South America. It was about a man whose project was "Bogota coqueta" and who, when he got married, took an elephant ride in the circus, bringing a rabbi, a priest and a notary into the tiger pit. That's the character!
What did you do once you got back to France?
When I came back, I painted several things with Jérôme, made a series in Bobigny. Then I went back to work because I had no more money and didn't want to live from painting. I almost stopped today, it bothers me that a lot of taggers devastate the works. It has happened that people have protested against these degradations! Indeed it is a pity that it is destroyed so quickly whereas it takes a great energy to go painting. I do not ask that a stencil lasts for years but eight days is too little. There are also fewer walls than before.
How do you build your stencils? They seem to be distinguished by a precise sense of framing and a real emphasis on movement.
Before going to paint I already know the place and know more or less what I'm going to do, so I take the most suitable series of stencils. I played between the "male" stencil and the "female" stencil. If I cut a red ball out of a piece of cardboard, I actually get two stencils with which I can make a graphic game. I then try to make them fit into the wall. If the place is beautiful I don't hesitate, even if the support is less beautiful. It is the place that determines the action, whether it is chosen for its high visibility or on the contrary because it allows to play on the effect of surprise by placing the work in a corner. At the time, there was incredible destruction in Belleville and Ménilmontant, including many old hovels. It was unimaginable, sometimes dangerous: a godsend for artists.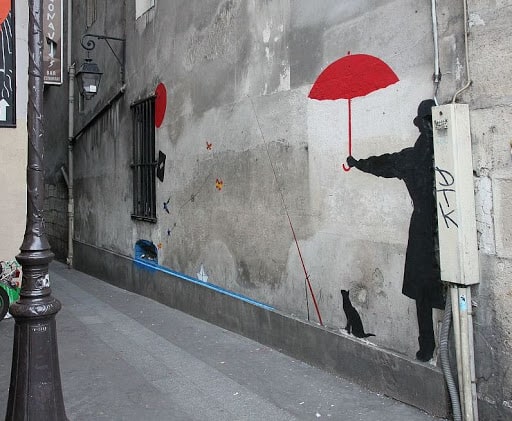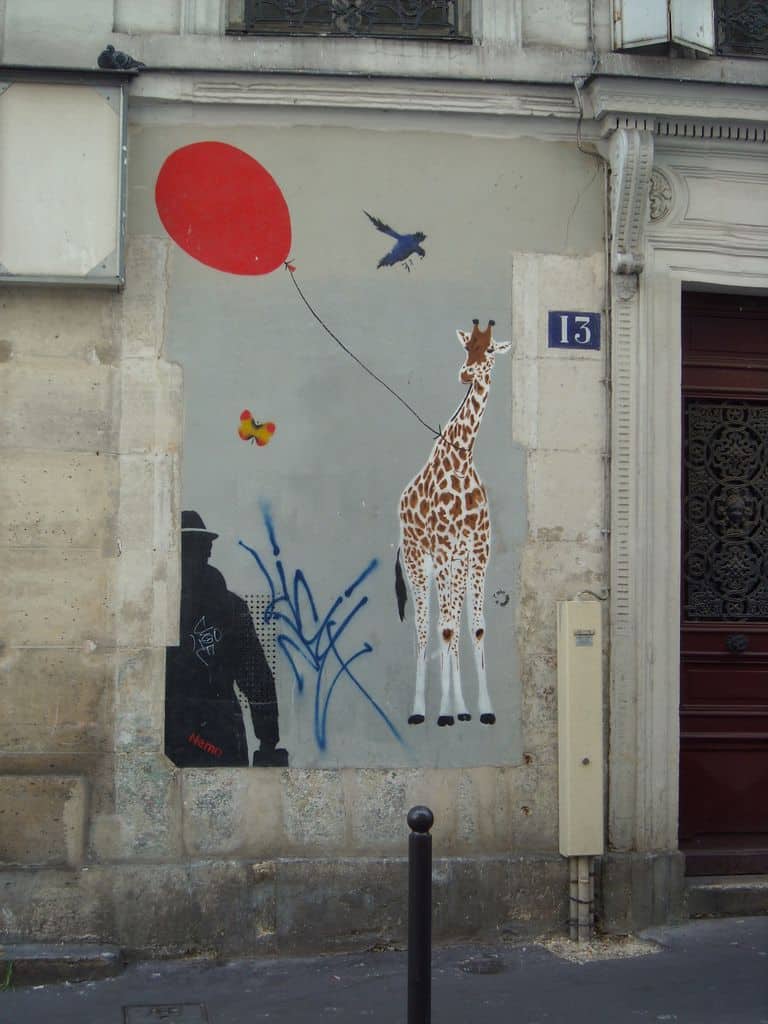 Your style is characterized by great poetry and the use of bold colors for accessories, in contrast to the black of the character.
Poetry is too difficult to talk about. I use primary colours: red, yellow, blue, green, with accessories that could give rise to ideas that I hadn't mastered. The black man alone is not so nice, but when he holds a flower in his hand, the impact is completely different. What does a red balloon mean to a child? I don't know. It was a desire on my part to be able to use very simple but very powerful shapes, like a broom or a suitcase, that speak in a way that is unique to each one. My goal is to offer several interpretations to the viewer. My victory is that people can have an emotion of their own, regardless of what I may have felt while painting.
How do you relate to people?
Taking to the streets is daring, because you have to be certain of what you're proposing. It's not the same universe as the gallery, another public will discover the work. I've always had a very good relationship with people, who are always surprised to see someone painting outside. I was lucky enough to meet really nice people, like once when I was painting rue de Belleville, near rue Haxo, and an old lady coming back from the market with her basket held my boxes for me without me asking her anything. I also remember an old Chinese gentleman on rue de Tourtille who, without saying a word, came to help me after ten minutes. In all the places where I paint, I believe very much in series, which allow a relationship to be established between the public and the inhabitants. For example, I put thirty-six stencils in Lisbon.
You have a marked taste for artistic collaborations, especially with Jérôme Mesnager.
For the Bièvre Lizards I had made a series of twenty-three stencils for which I had determined all the locations, except for the first one where I went to position myself – by asking him – above Jérôme Mesnager's Corps blanc. This collaboration then evolved incredibly to make a series of more than one hundred pieces! The first thing he asked me was if he could paint a White Body on one of my hippos. Our friendship was indeed also born from the meeting of these two colours that go well together. He is an excellent painter, who is capable of doing anything freehand.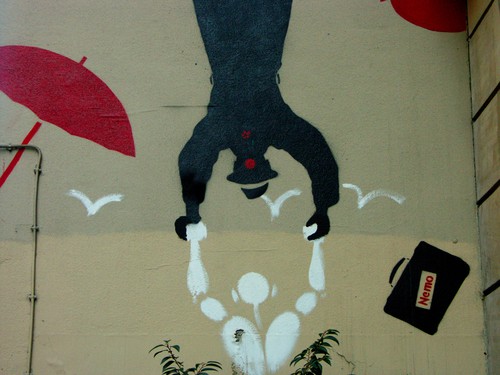 Could you go back to the creation of the Ménilmontant zoo in the 1990s?
There was a vacant lot with a gate facing the street. We first met there to paint with Jérôme (Mesnager) and the Moskos. The gates were then walled up, and when I came back from Colombia for the first time in 1998 at the time of the World Cup, we couldn't see anything anymore. So I asked Jerome to lend me a sledgehammer: I wanted to open a window through the wall, not very high so that the children could see the paintings inside. I was then doing a report for NHK, Japanese television, because the director knew Le ballon rouge by Albert Lamorisse. When I started attacking the wall, it sounded a lot, and all my friends left before the cops arrived. I told them I was claiming responsibility for the act and went to the police station. But then Jerome never got his mass back.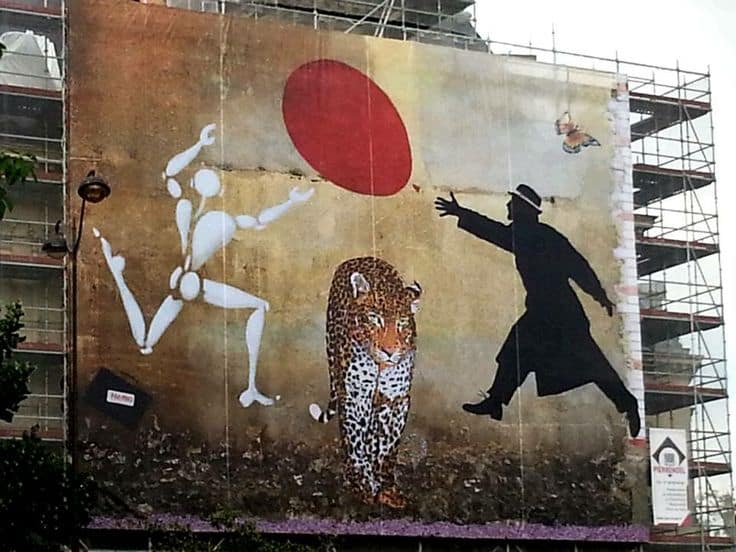 Your character thus refers to the imagination of an era with little urban art, and makes the connection with a Paris that has disappeared.
It is not the same city today. At the time, there were a lot of places with a few small vacant lots and sometimes dangerous buildings. There were streets where five houses were walled up. It was sinister if you didn't paint over them. When the cops came during the day I told them that everything was going to be demolished. And since I didn't make fun of them, I didn't get into trouble often.
That magic happens in Colombia. When I walk up to a wall and unpack my stencils, people wonder what I'm going to do. It's a bit intriguing, a bit abnormal, especially since I always start my man from the feet, because he's made up of several stencils. But in Bogota as in Belleville, even though people live in fairly defined territories, they come to see the work and recognize it. There are even some who only travel for that!
Photographs: All rights reserved – images from:
https://urbanhearts.typepad.com/photos/graffitis/paris_29_nov_2004_057.html
http://www.blog.stripart.com/art-urbain/jerome-mesnager-street-art/
http://artstreetic.com/2009/06/nmo-paris-20e.html
http://www.street-heart.com/PM-D93200-01%20Nemo%20Saint-Denis.htm
http://www.lapanse.com/pages/graffitis/carnets_de_nemo/carnets_de_nemo.html
http://eglantine0596.canalblog.com/archives/2017/10/25/35805596.html
Interview recorded in february 2018.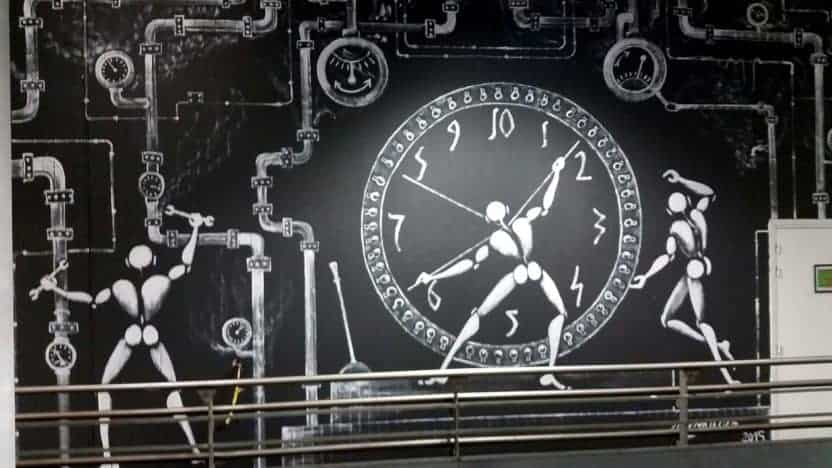 Meeting with the creator of the White Body, a character who evolved from the catacombs to the Great Wall of China to become a symbol of Freedom representative of Urban Art.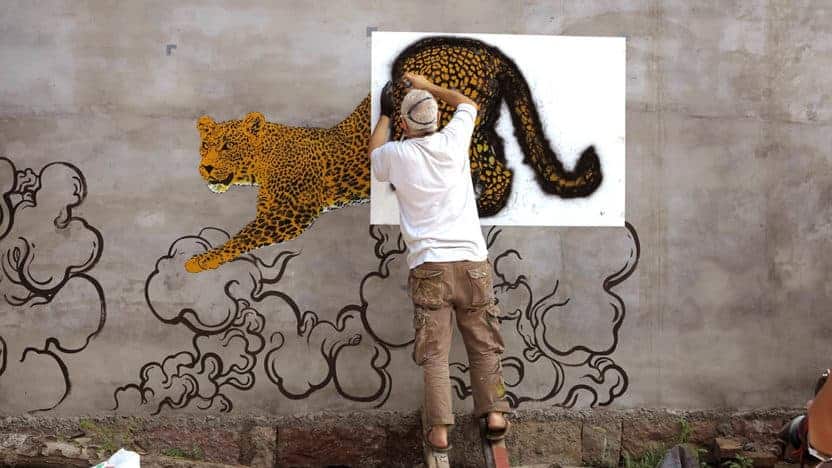 Meeting with an artist whose benevolent bestiary has been a marvelling urban wildlife since the 90s.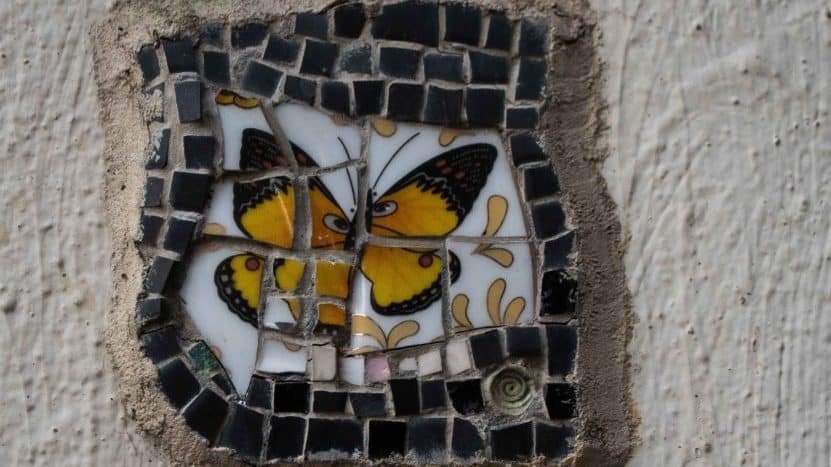 Meeting with an artist whose ceramics works are part of the urban landscape, with discretion and a lot of poetry.