In your eyes, the reflection of another world
"My work is like that of a sampler: I go looking for images, which become my palette."
How did you start working the streets?
Before I became Thirteen Bis I was a plastic artist. I started working in the street because I couldn't pay the rent for my studio in Montreuil. The meeting with my neighbour at the time who lived at number 13bis was decisive. We talked a lot before we started to work on collage little by little. As I was already very interested in engravings, drawings of anatomies and curiosity cabinets, we thought directly about these themes. The street offered me the possibility of taking up creation again without the constraint of space, except for the cutting, which we did with our neighbours, without pretension, guided by the desire and the will to have fun.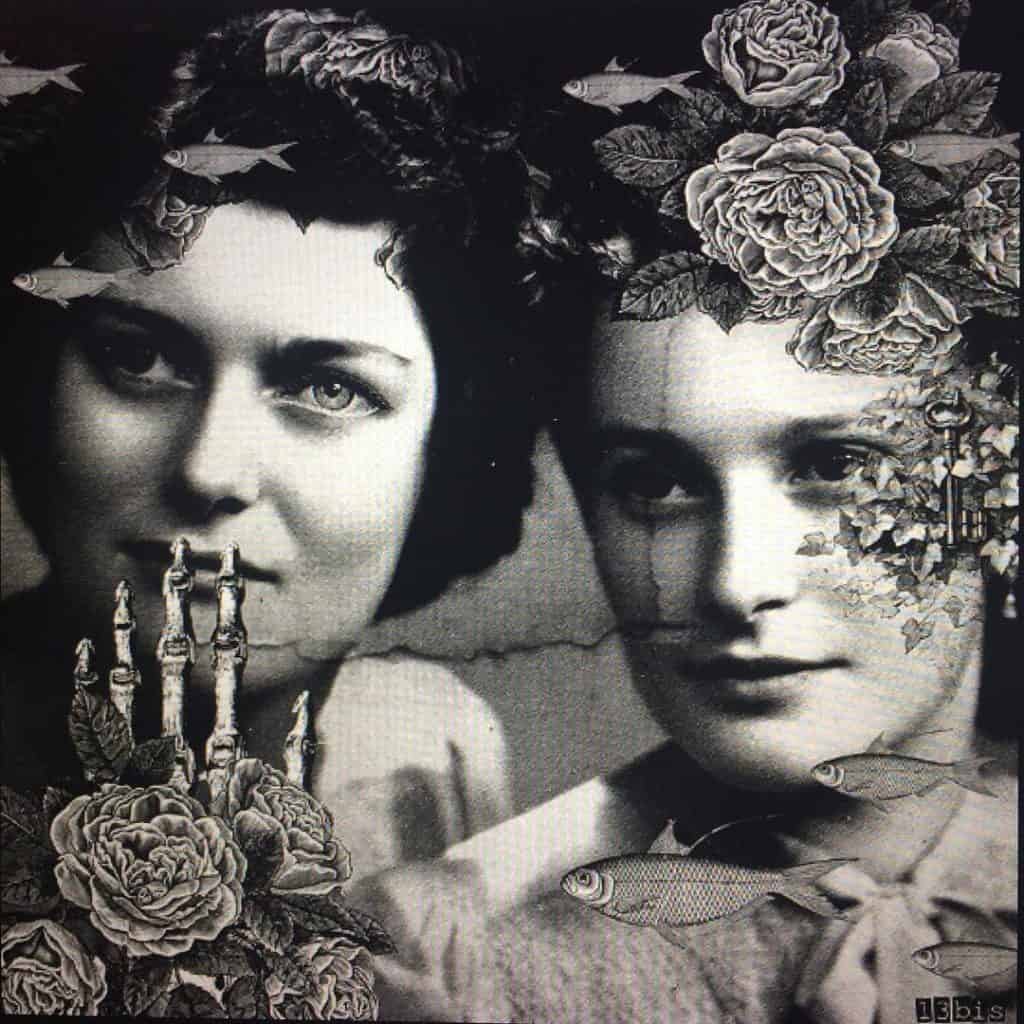 Was this use of old images also part of your work as a visual artist?
No. As a visual artist, I created light boxes and I worked a lot on the anatomy of the human body, but always in drawing, washing (diluted Indian ink) and painting, very rarely collage. He could not really be shown anymore because he has a very different identity.
Do you describe your interventions as poetic acts? Why do you call them poetic acts?
Putting art on the street is a reprehensible and therefore political act, but I insist more on the idea of gesture, of performance. It is the action of sticking visual poetry on the walls that becomes a poetic act.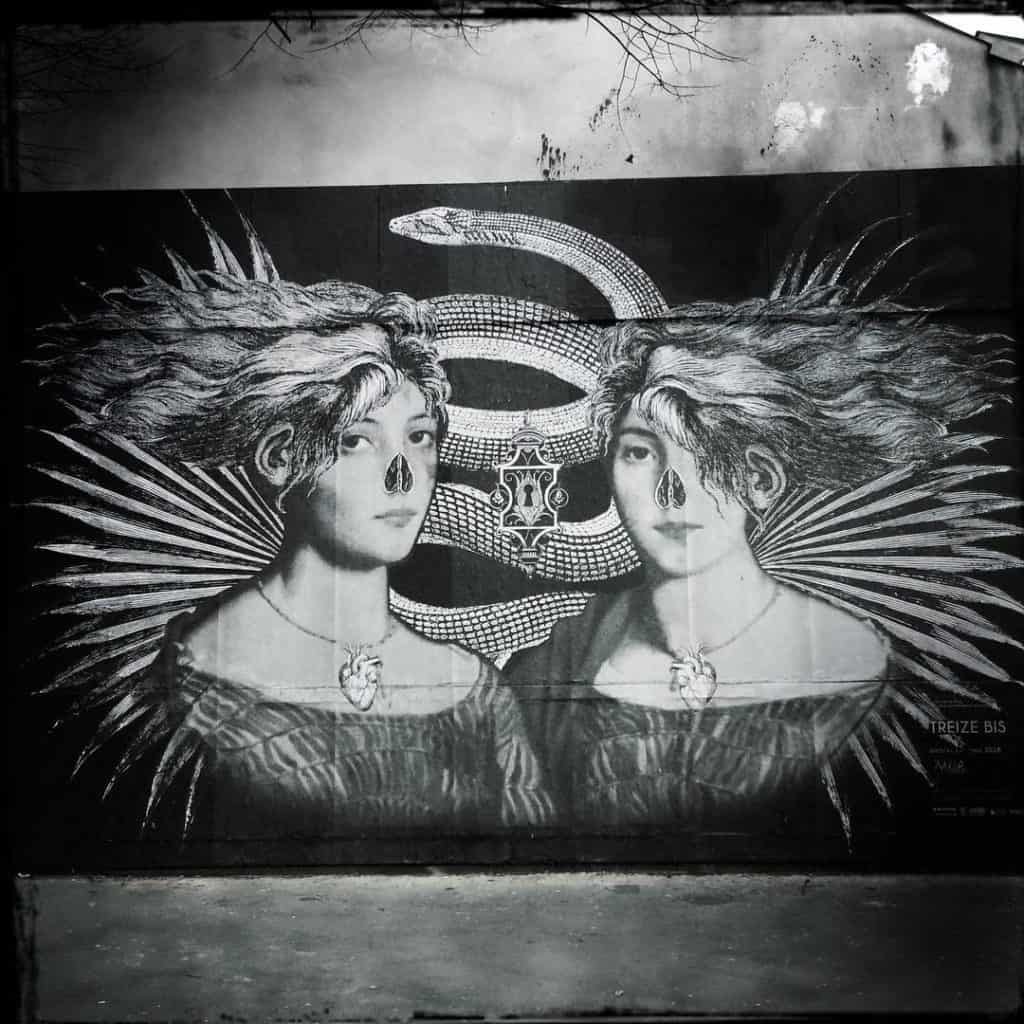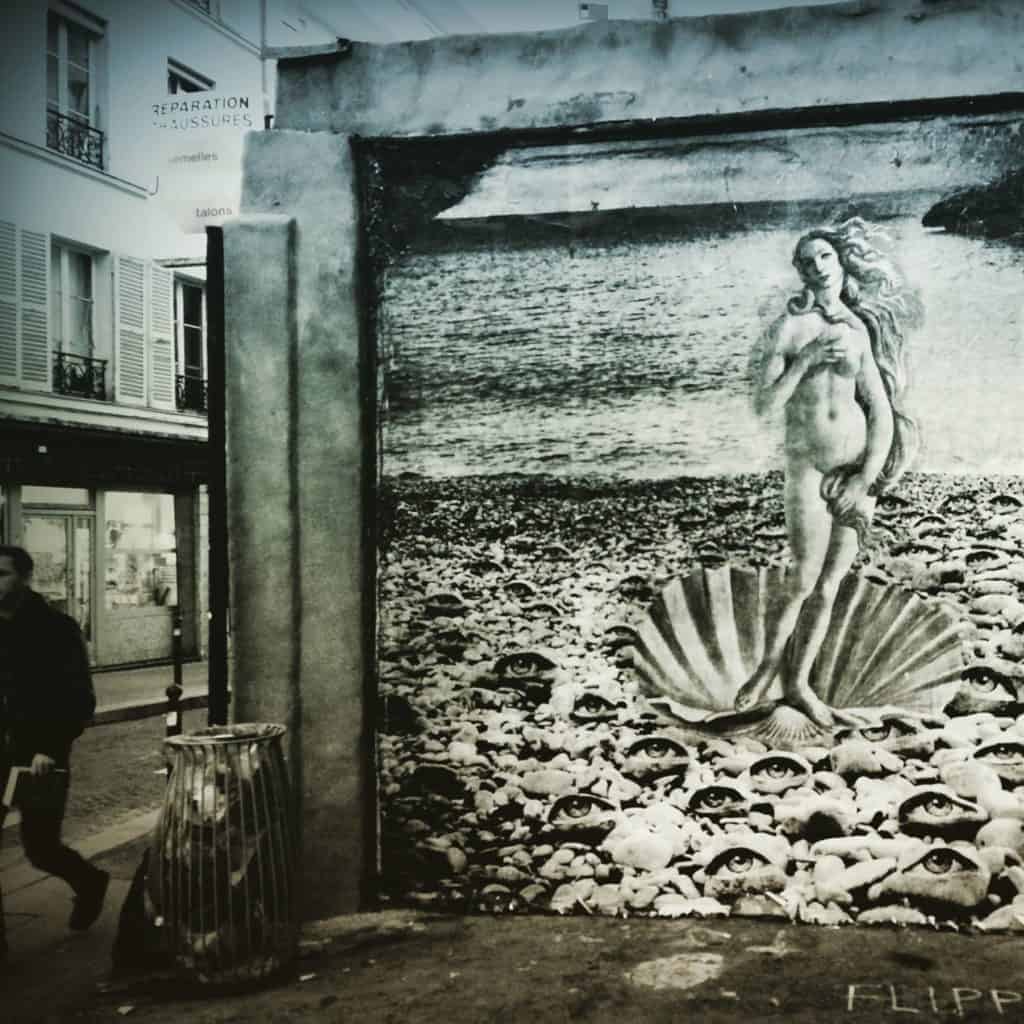 Why choose anonymity?
When I first started out, people very quickly started taking pictures of me and asking me questions that bothered me. They didn't talk to me about my work, or what I had done, but about who I was and what I represented. That's not why I wanted to be noticed. I also wanted to be in control of what was going on on Facebook. Today I tell people who take pictures of me that I'm anonymous, that I don't want to be recognized. I emphasize the fact that my work is enigmatic and surreal. Anonymity is then an extension of mystery, so as not to give a sense of reading or a grid of interpretation. For a long time, I didn't want to say either why my artist's name was Treize Bis.
Why did you choose collage as a medium?
I work on recovering images that inspire me enormously: enlarging them, taking them out of the context of the book, is already part of the process. Paper is a poor material that has always seduced me by its fragility. It was also a material possibility: we used to make the prints in my neighbour's agency when everyone had left, so we didn't need another workspace.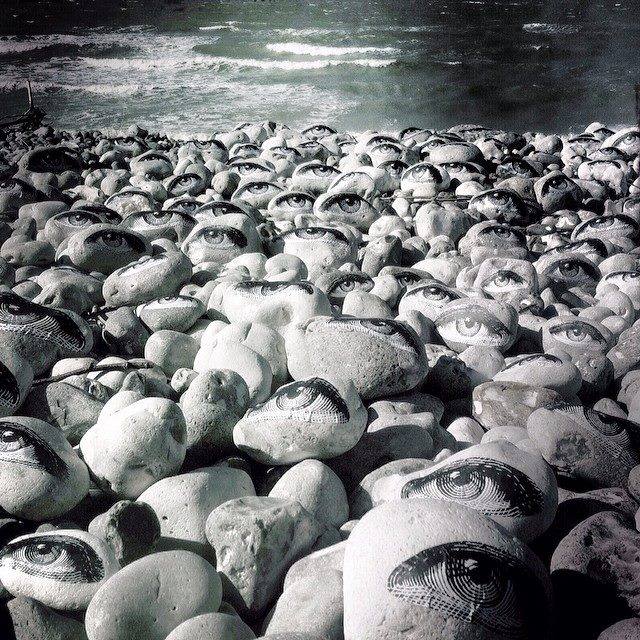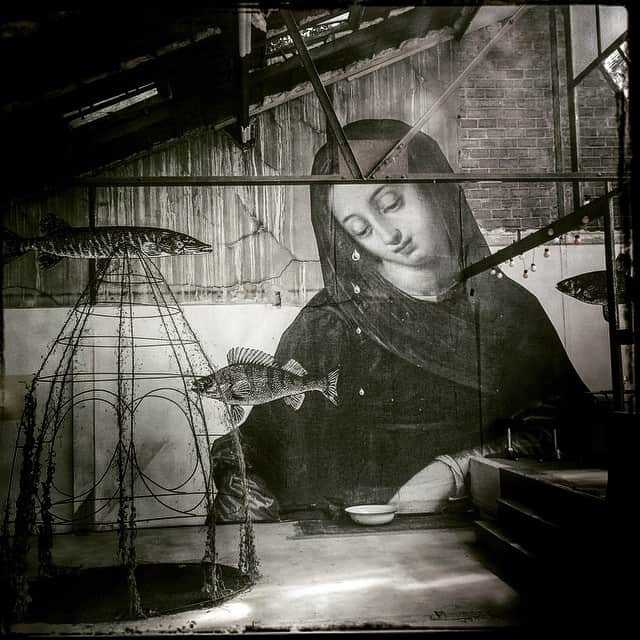 How important is it to you to act like a vandal?
I like to stick in legal places but the forbidden gives this side a bit punk, wild, a feeling of power and freedom. It creates strong emotions. I'm an extremely sensitive person, so these moments are for me very intense emotionally. Certainly, if it was legal, the effect would not be the same.
Do you spot a wall to put your collages on, or do you already have an image ready when you are going to paste?
Sometimes I take measurements of a wall and take pictures, in order to create a specific room. But for smaller jobs, I go out into the street and search, which can take a long time before I finally find a good spot.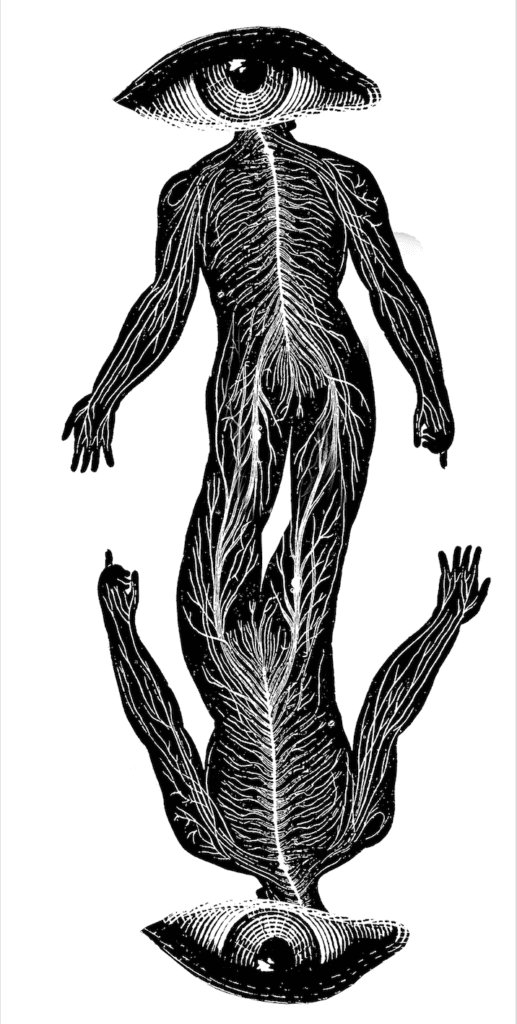 Comment appréhendes-tu l'aspect éphémère de ton travail ?
Poétiquement parlant c'est très fort. Au début, je pensais que le collage n'abîmait pas les murs, ce qui n'est hélas pas le cas. Le fait que mes pièces disparaissent donne à mon travail encore plus de force, car tout le monde ne pourra pas les voir, et cela les rend donc plus précieuses, car plus rares. Par ailleurs, cela nous renvoie aussi à notre propre caractère éphémère. En tant que plasticien je travaillais sur la trace et la mémoire, et mes collages sont ainsi liés à ce précédent travail, à ces réflexions sur la silhouette, le support/surface ou l'intérieur/extérieur.
En commençant j'ai découvert le travail de Léo & Pipo. Lorsqu'une de leurs silhouettes disparaît, il reste des vestiges, des traces de papier et de colle, et les contours demeurant sur certains murs évoquent une présence fantomatique, qui conserve une charge émotionnelle très forte. Les affiches lacérées sont aussi une source d'inspiration. Quand on connaît Jacques Villeglé on finit par en voir partout. Il y a beaucoup d'œuvres dans les couloirs du métro.
Pourtant, même si cela ajoute une force aux collages, c'est toujours violent de les voir arrachés dès le lendemain matin. Il a donc fallu apprendre à gérer cet aspect émotionnel, ainsi que les risques de toyage.
Are you looking for your images according to the theme you want to treat or are you building them from a pre-existing photo bank?
My work is like the one made with a sampler: I go looking for images, which become my palette. I start to have a beautiful bank of iconographies and most of the time I work this way, using elements already recovered. When I have orders I buy high definition images. Nevertheless, most of the time I find them in books, or I find old photos in flea markets. Then I do a long scan job, which is the most boring part of the process. I classify them on the computer, dividing them into different categories: nudes, plants, anatomy, landscape, etc. I then scan them into the computer, which is the most boring part of the process. Finally I look for an image that inspires me and try to compose with it.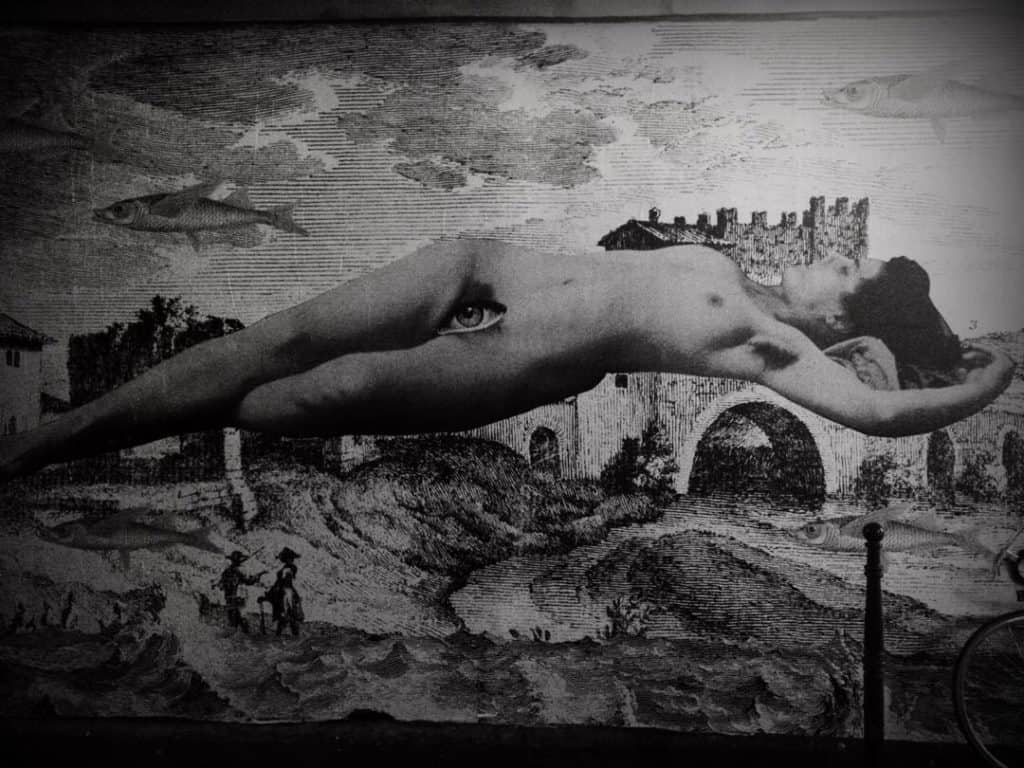 Do you do this scanning work for reasons of scale or to have the possibility to reuse the images found?
Both. The scan is mandatory to archive my sources which will sometimes be used in their entirety or sometimes just to recover a part of the image. It is not uncommon for me to reuse some prints that in other contexts will not bring the same intention. I rarely use the source images, even if it happened to me for a few paintings in a gallery, but it is quite difficult for me because I don't want to damage the original book. In addition, the question of scale is paramount for my street work.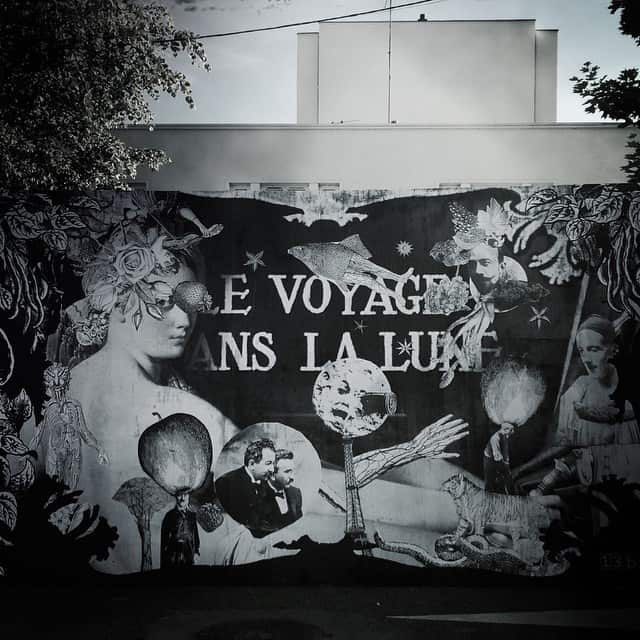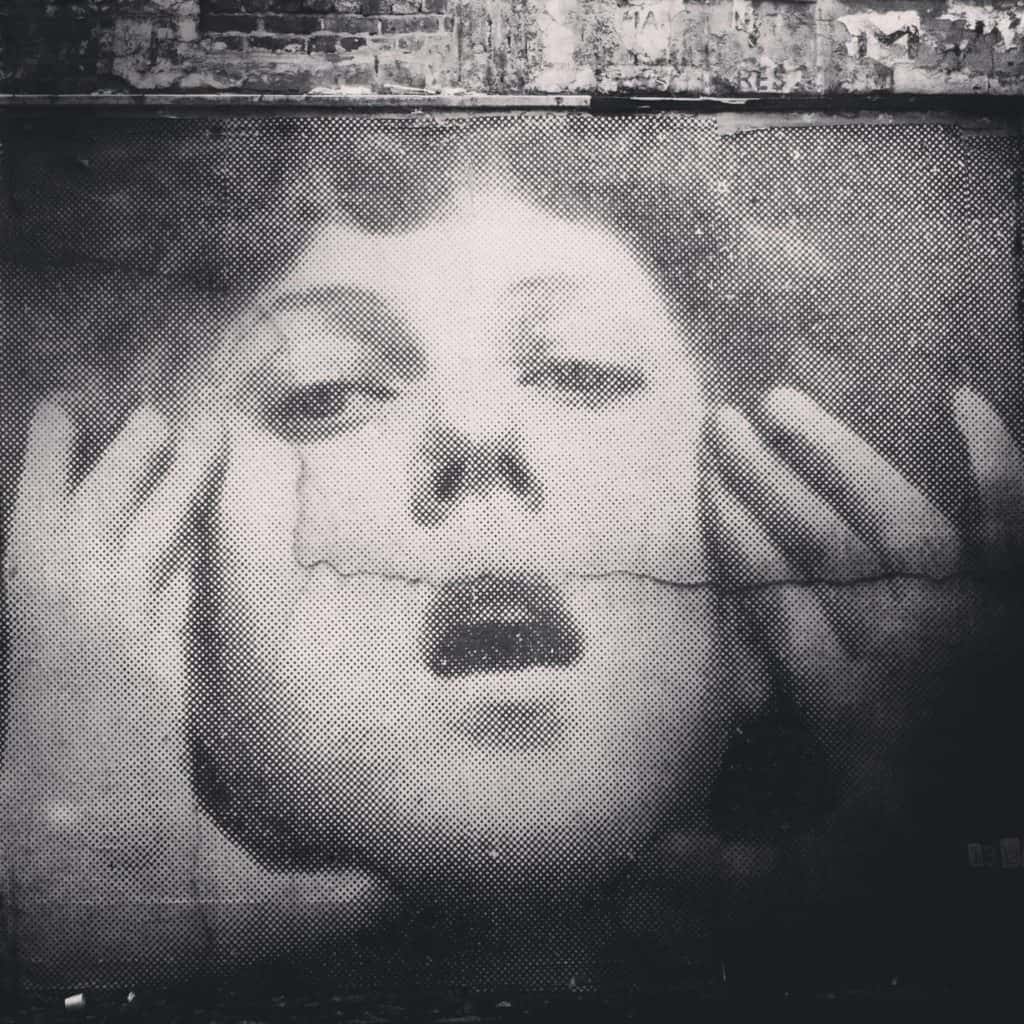 By recomposing a new image, you will transform its meaning: it is your creations – and not the original images – that exude a surrealist atmosphere.
That's right, it's not the original images that create a surreal atmosphere. Max Ernst's collages are an inspiration that you can find again, even if he used the original images for this. Like him, I don't go in search of the beautiful, if not the strange. I like to disturb, to disturb the eye and the sense of reading in order to create confusion and provoke questioning in people. I don't only situate myself in a morbid or trashy register, even if I work a lot on death and eroticism.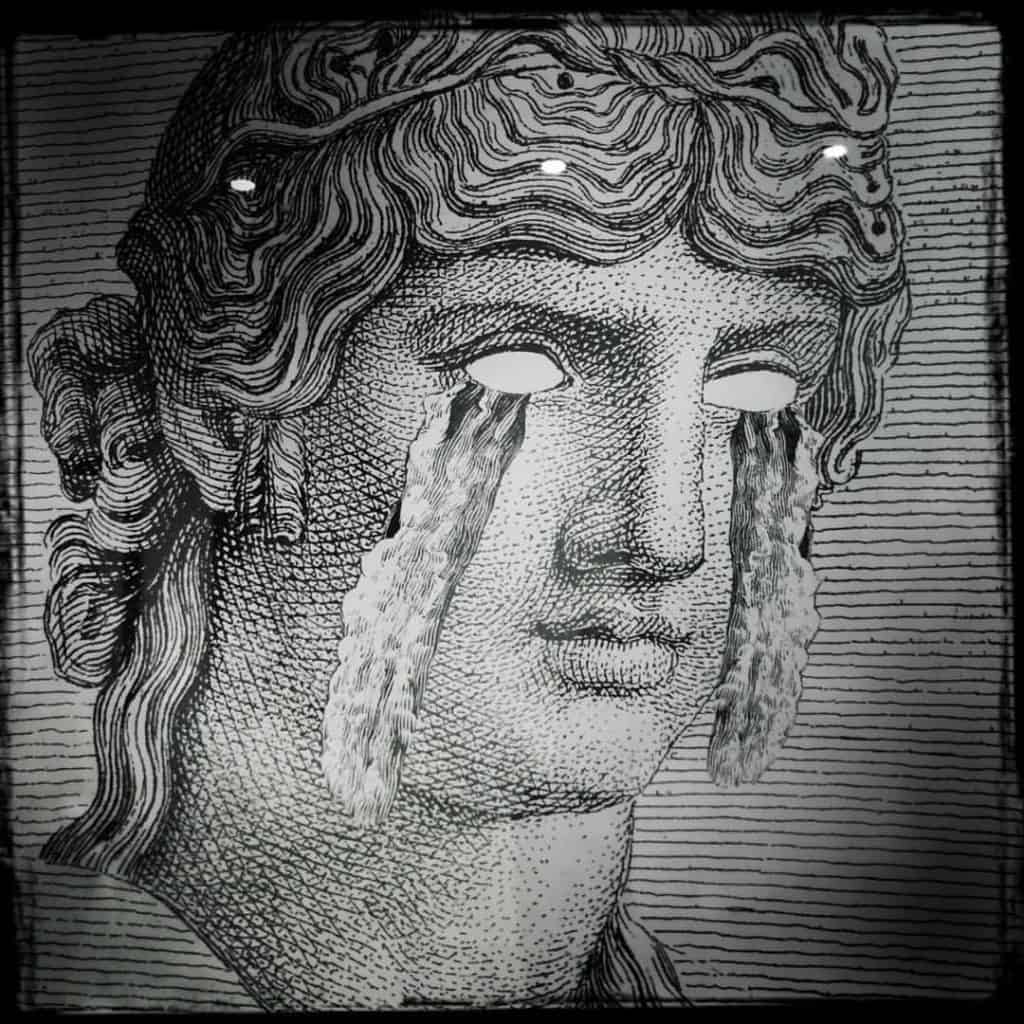 The question of multiples is always present in the work of gluers. How do you view the possibility of reproducing the same images several times in the street?
I'm not into the idea of the sticker. Except for the Woman with Butterflies and the Blind Song of the Moths, I don't often glue my work several times. Indeed, collage is a practice in situ, and the creation takes all its meaning in the street, carried by the visual load of the chosen wall. As I work with Photoshop I can reuse my images, but I am careful not to become a trademark, a Street art "product". I don't try to invade the city.
I make a point of creating new things every time. But I have images that it's a shame to use only once, because they can work on several pieces by changing their meaning. What's great about collage is that in a way everything works. Mixing images always gives something, but does the result look like me? I'll look for what suits me best, which sometimes happens in seconds, sometimes in a day. On the other hand, an image can very well render in one place and not in another.
The "eyes" are an exception in this speech, because they have become a kind of trademark, which I even allow people to download on Facebook. They can reappropriate them and allow Thirteen Bis to travel around the world. It's a game of glances between the public, the street and me.
Photography occupies a very special place in your work.
I like to use a filter, which has become a kind of gimmick, which has allowed me to develop a visual identity, but this was done a bit by chance, like the choice of anonymity. The collage is finished once it is in the street, and the photograph becomes a work in its own right. It is not a testimony because it does not seek to give an objective account. Indeed, I embellish it by using black and white which adds an extra poetry to which I am attached. This work on the image is specific to each artist, and I have sometimes talked about it with Philippe Hérard, who prefers a documentary rather than an artistic photograph.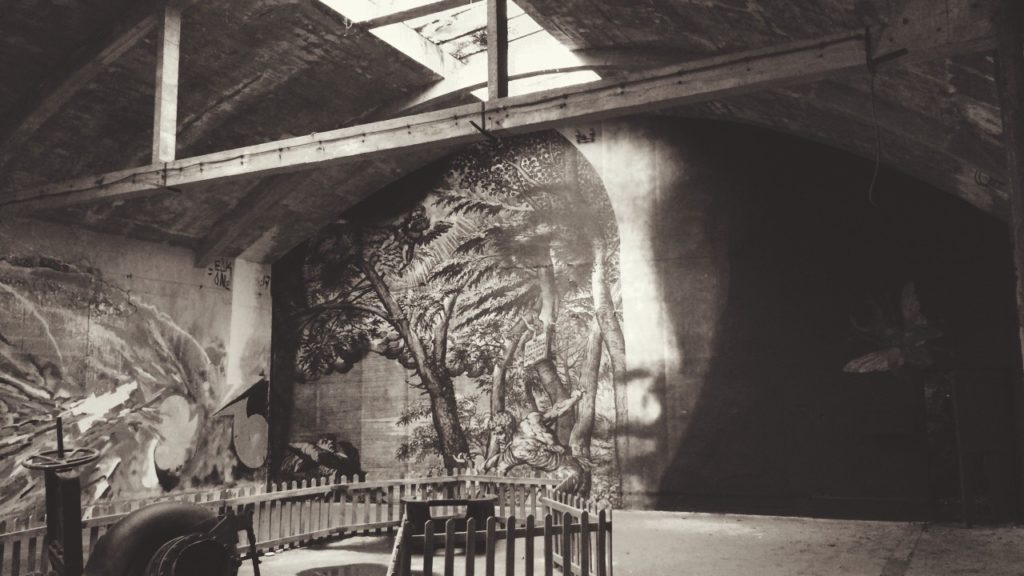 You're also interested in the collective memory.
I work on both collective memory and the memory of a photographic image. If they are not necessarily "collective", these old black and white photographs already refer to the past, evoking a certain nostalgia and creating a romanticism. When I use the image of women, men or children, they are people who have existed, to whom I somehow give life again. The notion of collective memory also finds its place through the use of old engravings, or the works of great masters. It is interesting to bring back to life these figures, sometimes forgotten by the public. Indeed, only a part of the population normally has access to this memory. So I try to create a good sample by recomposing a work, and not simply by reproducing it.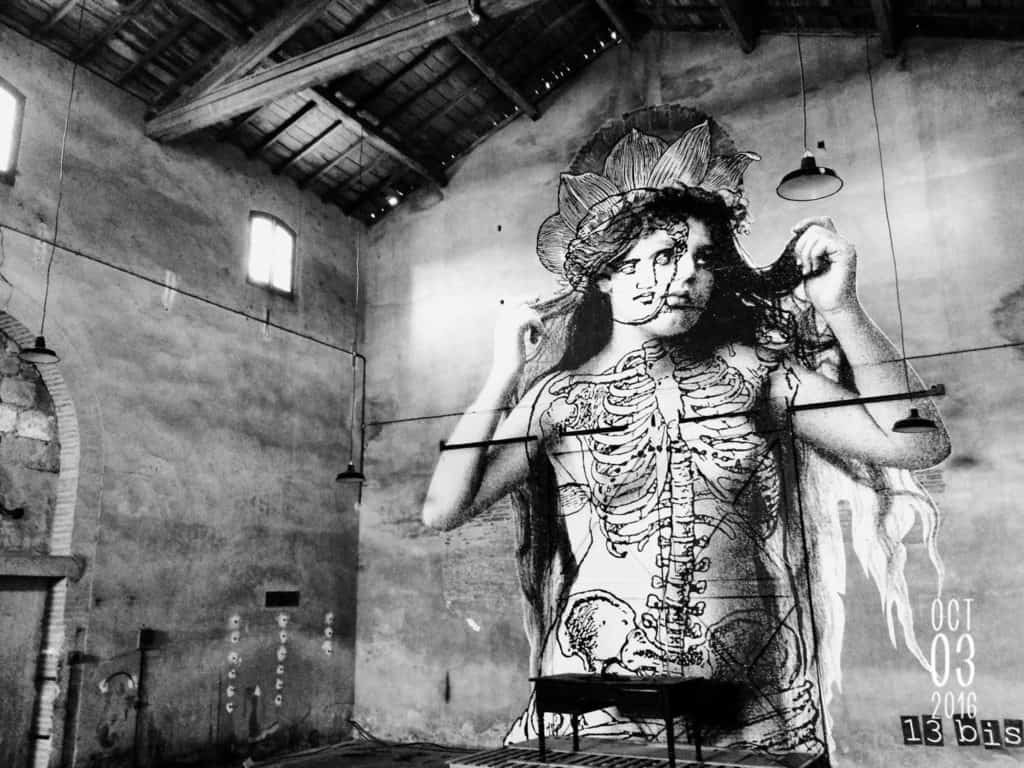 The disappearance of these collages questions the question of memory in the absence of images.
The remains of Leo & Pipo refer to this. The collage leads to memory, to remembrance, to the ephemeral, but then it is a disappeared image. I can also knowingly remove an element such as the face, to evoke the idea of the absent image. I like broken Greek sculptures with a missing limb. This creates a poetry of time that has passed, a fragility that moves me enormously. For a work to be strong, it is not necessary to say everything: in this I like the effect of the sketches.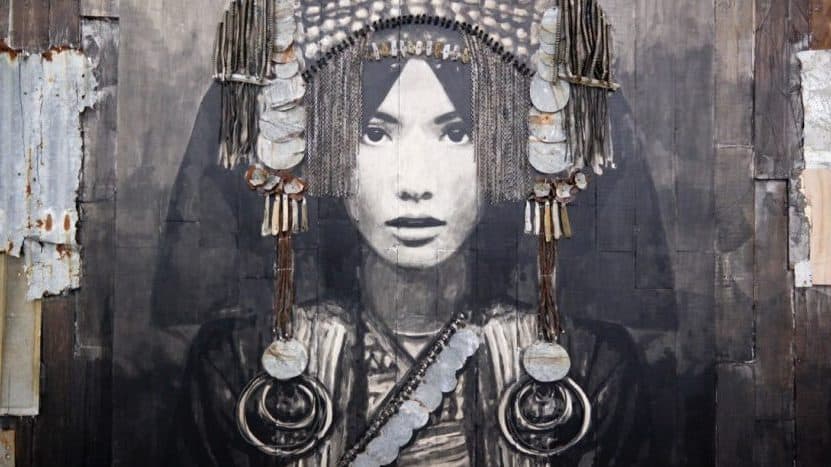 Meeting with an artist who explores her heritage through figures of women of all origins and times.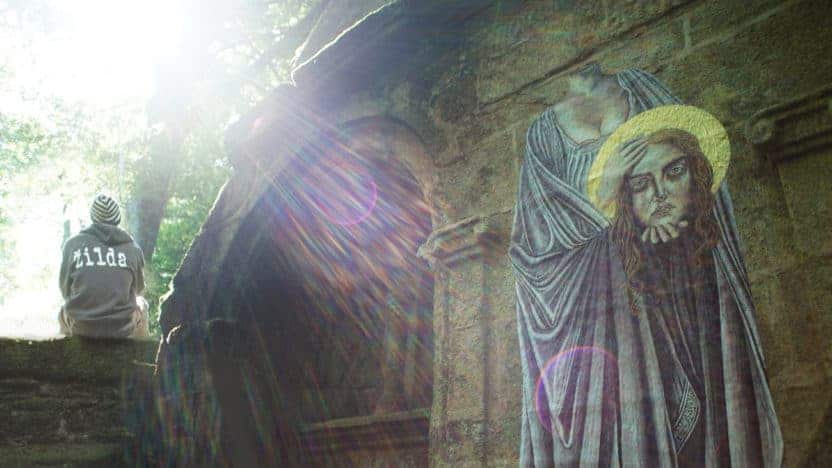 Encounter with an artist whose unique and rare creations are so linked to their environment that they are often placed far from view.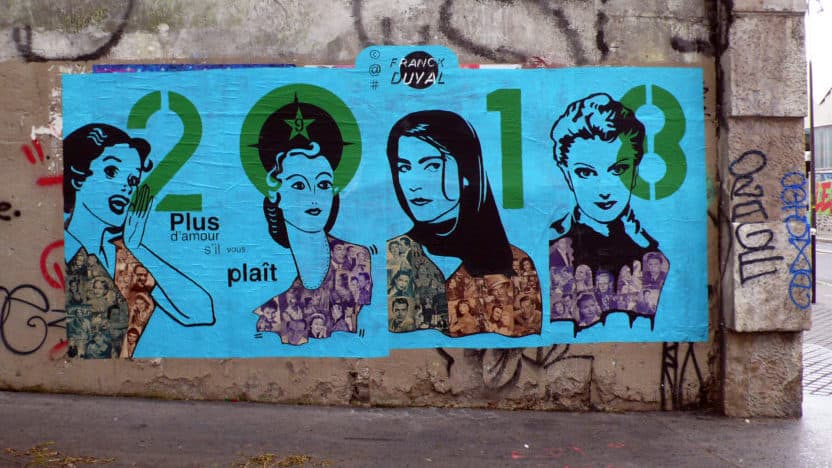 Meeting with FKDL, a figure of Art scotch, whose assemblages from yesterday's news magazines elegantly illustrate our current memory.